Good Morning!! Good Cold Morning!! I love the winter time! Snuggling, hot cocoa, snow, and a definite quick fix to the hot flashes! Gotta love it!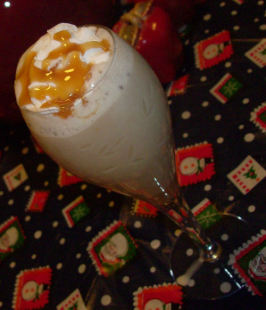 Speaking of winter, we have a rewards chart we use for discipline issues. If, for instance, my kids are not unkind to each other, they get a reward. My son's reward is a coffee drink. So, I have looked up some coffee recipes and this one for
Caramel Macchiato
is great!
In our Good Morning Girls devotional today, we read Exodus 10. Here is my SOAK!
S: v. 1...."I have made him and his officials stubborn so I can display my miraculous signs among them. 2. I've also done it so you can tell your children and grandchildren about how I made a mockery of the Egyptians and about the si
gns I displayed among them- and so you will know that I am the Lord."
O: This answers the question that has been bothering us -"Why did God harden Pharoah's heart?" The sad thing is, the immediate generation, with the exception of Joshua and Caleb, did not respect God or His power.
It is also interesting that the plague of locusts was related to the defeat, in the Egyptians mind of Osiris, the god of fertility and crops and the darkness was to show God's power of the sun god, Ra.
A: God had a plan then and he has a plan now. In the midst of this chaotic mess of a world we live in, God is in control. Nothing that is happening is news to Him. We have to spend time in the Word and in developing a close, deep relationship with the Holy Spirit. We must put that first. The busyness of the day gets in the way of our developing that relationship. It is like "I will get with You in a little while. Have a seat." And we never show up! He has sat there all day and we never show up! Why is this so important? Because if we don't hear from the Holy Spirit, we are going to be seriously handicapped in this time of tribulation and persecution. Where do we go? Where does God need you today? Who does God have for you to witness to today? Do we stay where we are if we face persecution or do we sneak away? The Holy Spirit will direct our every move, but we cannot leave Him sitting in the chair all day! I challenge myself in this also. I cannot let the busyness of the day come between me and my Lord. He has to come first. The 15 minute praise breaks I posted about a few days ago have really helped to keep God at the forefront all day long. Everything goes better. My head is clearer, my day is brighter, my children are happier.
K: My Lord! How I do love You. Today, create in me a pure hear and a clear mind. Fill me to overflow with Your Holy Spirit. May I be obedient to Your every word and may I not do or say anything that You do not tell me to do or say. Help me to be a blessing to You today and not a discipline problem child. I adore You! You, alone, are worthy of my praise and adoration. In Jesus' Name.
May God Bless You Richly Today!